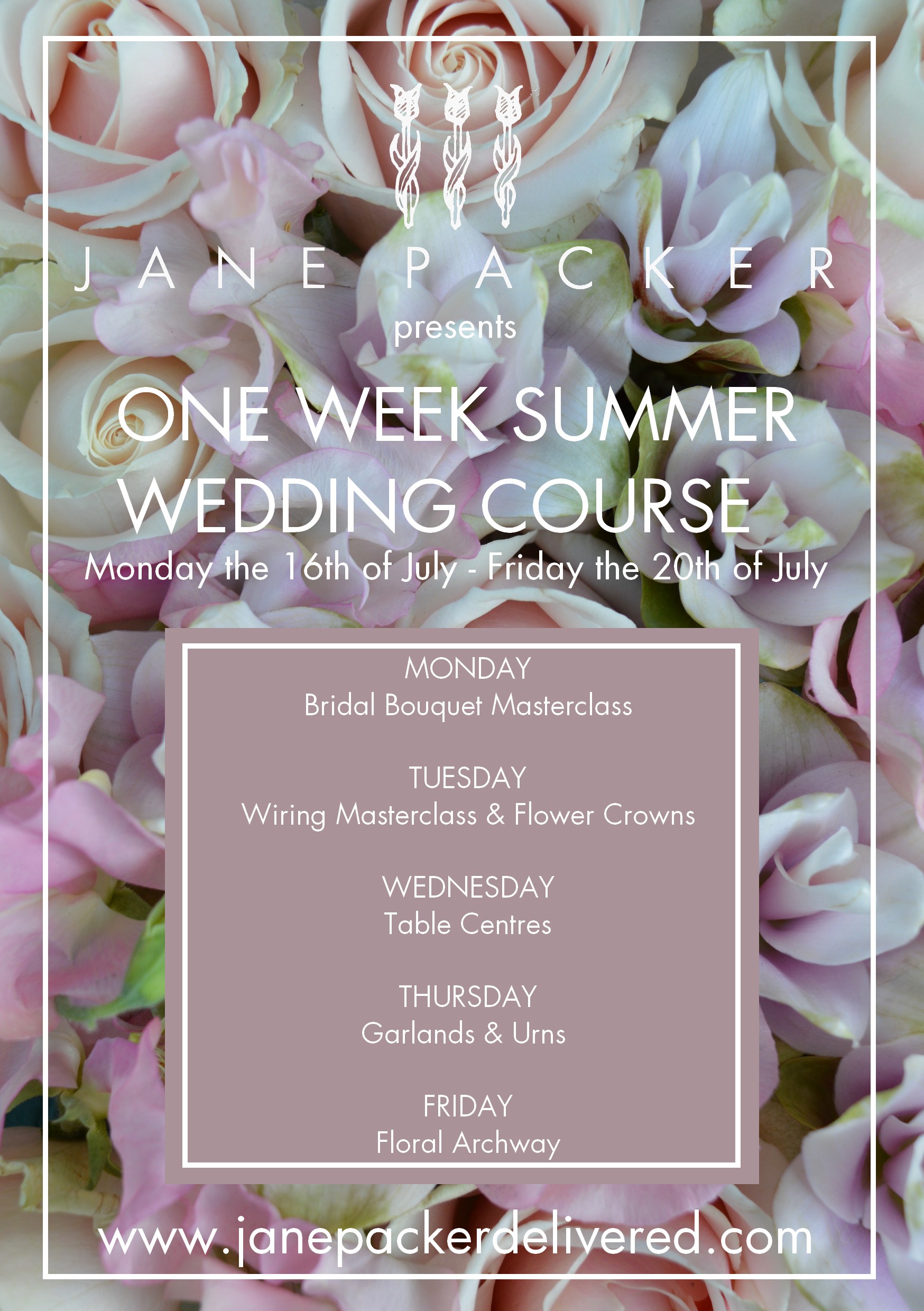 We are so excited to present our newly confirmed schedule for our One Week Summer Wedding Course that will be commencing on Monday the 16th of July!
The course will run as follows:
Monday: Bridal Bouquet Masterclass
Master the art of creating bridal bouquets and learn all about the spiral technique. You will make two separate styles of bouquet: a natural styled hand-tied bouquet and a classic rose dome.
Tuesday: Wiring Masterclass & Flower Crowns
Spend the morning learning all about the art of wiring and practice constructing groom's buttonholes. In the afternoon test your new found skills by constructing a gorgeous floral crown.
Wednesday: Tablecentres
Learn about floral foam and how to make a range of different tablecentre designs - both low and tall. Experiment with props, tealights and mirrors to take your designs to the next level.
Thursday: Garlands & Urns
Create beautiful foliage garlands and learn how to design and make large scale urn arrangements - with industry tricks on how to deal with the logistics of transporting, installing and constructing large designs.
Friday: Floral Archway
Work in a group to design and make a beautiful free standing floral archway - the most sort-after statement piece for any summer wedding!
Alongside these practical lessons, we will also cover the fundamentals to wedding floristry, for those who are looking at making there way professionally into the flower industry. Topics we will cover will include all logistics, sourcing your flowers, pricing your designs effectively and managing your time efficiently when it comes to making your designs for the big day!
This is the only class of its kind that we will be running in 2018, and we are thrilled to be running it in the middle of July - the most perfect time to take full advantage of the abundance of English summer blooms available at this time!
For more information on the course, please click here!
As always, you can book online or by emailing us at school@janepacker.com, or by calling 0203 411 2174.